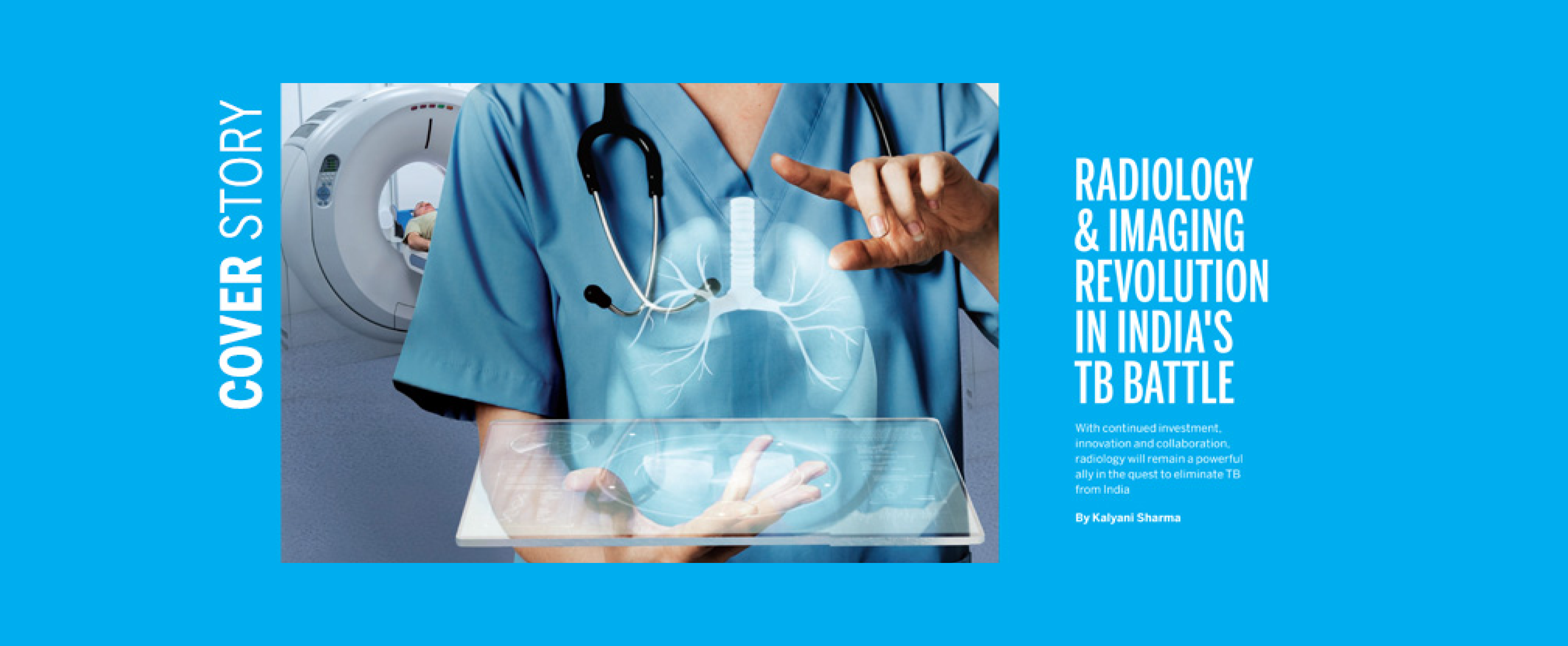 Radiology & imaging revolution in India's TB battle
With continued investment, innovation and collaboration, radiology will remain a powerful ally in the quest to eliminate TB from India
As per WHO, every year, 10 million people fall ill with Tuberculosis (TB). Despite being a preventable and curable disease, 1.5 million people die from TB each year – making it the world's top infectious killer.
India's relentless fight against TB has reached a crucial juncture with the government's audacious "End TB by 2025" campaign. At the heart of this battle lies a transformative force: radiology and imaging technologies. The integration technologies, including Artificial Intelligence (AI) and Machine Learning (ML), is serving as a powerful catalyst, promising better outcomes and accelerating progress.
Current state of radiology in TB detection
Global Data in its recent report highlights that, "TB, a persistent global health challenge, continues to impact countries across the world, including India. As the nation strives to combat this ancient disease, India's mycobacterium tuberculosis tests market is anticipated to grow at a compound annual growth rate of 4 per cent between 2023 to 2033."
Dr Manjunath P H, Consultant Interventional Pulmonologist, BGS Gleneagles Global Hospital, Bengaluru while explaining the role of radiology in TB testing and detection said, "TB is primarily detected by examination of Sputum and biopsy specimens in extrapulmonary cases. However, radiology is used as a simple tool for early detection of suspected cases. When patients with lung infection do not respond to antibiotics and their radiological picture remains the same then we can suspect the possibilities of other infections, in which TB is the first differential diagnosis in our practice. So, Radiology can be used as early suspicion in TB."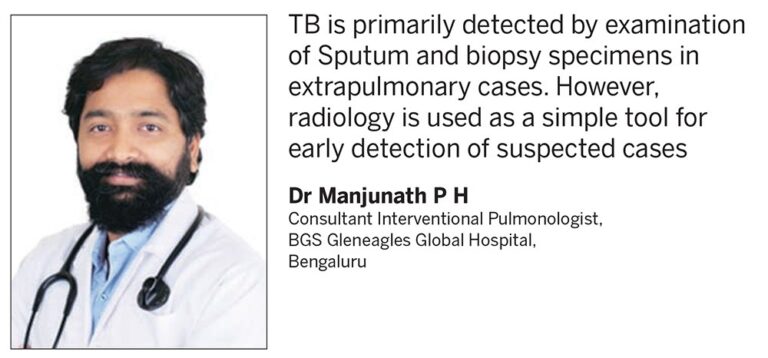 In the battle against TB, radiology has been a longstanding and essential tool for detection and diagnosis. India's healthcare system has leaned on radiological imaging techniques, primarily chest X-rays and Computed Tomography (CT) scans, to identify TB-related abnormalities in the lungs.
The diagnostic power of radiology lies in its ability to unearth the telltale signs of TB within the human body. Dr M. L Rokade, Consultant Radiologist, Jupiter Hospital Thane shares, "These signs manifest as characteristic abnormalities within the lungs, most notably cavities and infiltrations. These radiological hallmarks are not only diagnostic but also serve as a crucial benchmark for assessing the severity and progression of the disease. Radiological findings inform medical professionals on the course of treatment, allowing for timely interventions that are essential in mitigating the spread of TB."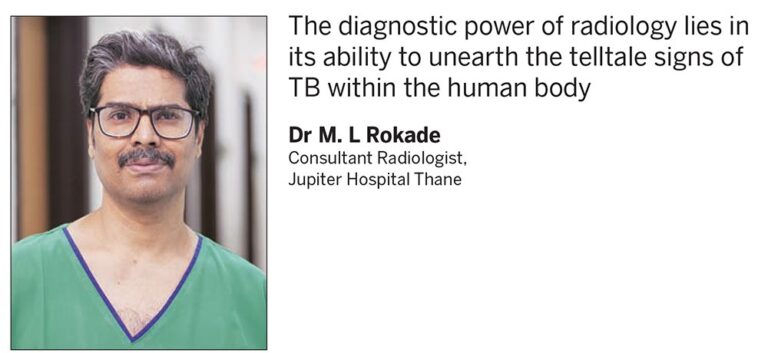 Highlighting some of the imaging techniques, Prof. Dr. Sudhir Kumar Kale, Lead Consultant – Radiology, Aster CMI Hospital; Governing Council Member – Aster Medical Imaging (India); HOD BMIT Aster-RGUHS said, "For many years, radiology and imaging have been crucial diagnostic and treatment techniques for tuberculosis. The two most used imaging modality techniques for identifying pulmonary TB are chest X-rays and CT scans. It is reasonably priced, widely accessible, and capable of identifying a variety of TB abnormalities, such as infiltrates, consolidations, cavities, and lymphadenopathy."
"Yet, especially in infants and those with HIV/AIDS, chest X-rays might occasionally miss early or mild instances of TB. To obtain more precise images of the lungs and other organs that may be impacted by TB, various imaging modalities, such as CT and Magnetic Resonance Imaging (MRI), can be used."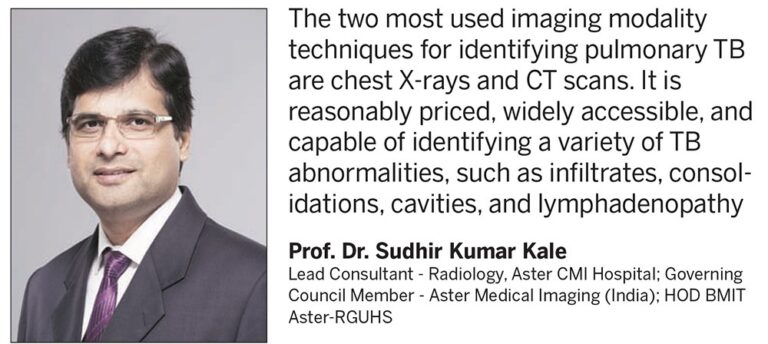 Dr Lancelot Mark Pinto, Consultant Pulmonologist and Epidemiologist, P. D. Hinduja Hospital & Medical Research Centre also mentions, "Chest radiography is a sensitive test for pulmonary tuberculosis. Unfortunately, it is not very specific when used in itself. Indians have a high prevalence of background scars on chest radiographs, often as a result of childhood infections or infections during the course of their lifetime. And this makes it difficult to interpret chest radiographs, especially when used in the context of screening for tuberculosis. When combined with symptoms such as prolonged fever, cough, weight loss, chest radiography has the potential of improving diagnostic yield for the disease. This can be exploited by standardised questionnaire-based algorithms or AI algorithms that use the combination of these variables to predict the probability of tuberculosis. However, these are screening tests; the confirmatory tests for pulmonary tuberculosis continue to be based on sputum analysis with molecular tests such as gene expert or CBNAT, and culture-based methods."
"A point of care chest radiography done through mobile tele monitoring systems would be useful in door-to-door screenings as part of active surveillance systems, when used in combination with symptom screens. However, it must be reiterated that radiographs tend to over-diagnose the disease when used in isolation. Therefore, a chest radiograph suggestive of tuberculosis must conform with a sputum analysis."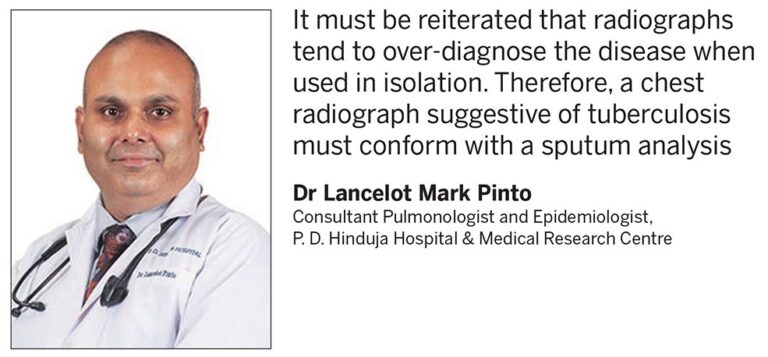 Technology integration: Amplifying TB detection
While traditional radiology already plays a significant role in detecting TB, integration with other technologies like AI and ML can significantly improve its accuracy and ultimately help achieve the goal of "End TB by 2025."
Technology integration allows radiologists to review a larger number of radiology images in a shorter time frame, increasing efficiency that leads to more patients with TB being identified and treated, ultimately reducing the burden of the disease.
Talking about technology integration, Raghavendra Goud Vaggu, Global CEO, Empe Diagnostics mentions, "The swift processing and accessibility of images have been propelled by digital radiography and Picture Archiving and Communication Systems (PACS) systems, outpacing conventional film-based approaches. Computer-aided detection (CAD) systems have brought about a substantial enhancement in the precision and swiftness of TB identification in chest X-rays, while AI and ML algorithms have fine-tuned sensitivity and specificity in radiological TB detection."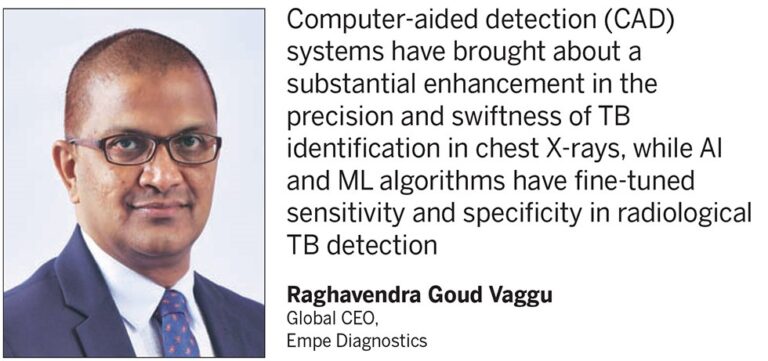 AI and ML are emerging technologies that have been making significant strides in the medical industry, and TB detection is not left behind in this revolution. The integration of AI and ML in radiology and imaging is providing healthcare professionals with improved detection techniques for TB. AI algorithms are being developed to identify lung abnormalities indicative of TB, such as nodules and cavities, by analysing chest radiographs.
Explaining how AI is helping in achieving the objective of the 'End TB by 2025' campaign, Amit Gandhi, Chief Business Officer (CBO), Deeptek says, "AI is fundamentally reshaping our approach to achieving the 'End TB by 2025' campaign, ushering in profound changes in TB screening and detection. AI is proving to be a cost-effective approach. By reducing unnecessary tests and expenses, only individuals identified as positive by AI undergo sputum or molecular testing, streamlining the process and saving resources. In summary, AI isn't just supporting our mission to end TB by 2025; it's driving a paradigm shift in TB control. It's improving access, boosting detection rates, and ensuring timely care for those afflicted. AI represents a revolution that's steadily propelling us towards our goal."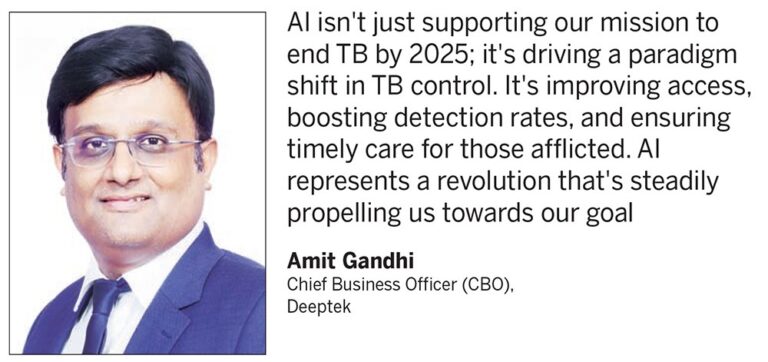 Dr (Major) Vimal Raj, Senior Cardiothoracic Radiologist, Narayana Health City Bangalore opines, "Radiology and imaging technologies, coupled with AI and ML integration, are indispensable tools in India's battle against TB. They not only expedite diagnosis but also contribute significantly to achieving the campaign's objective of eradicating TB by 2025."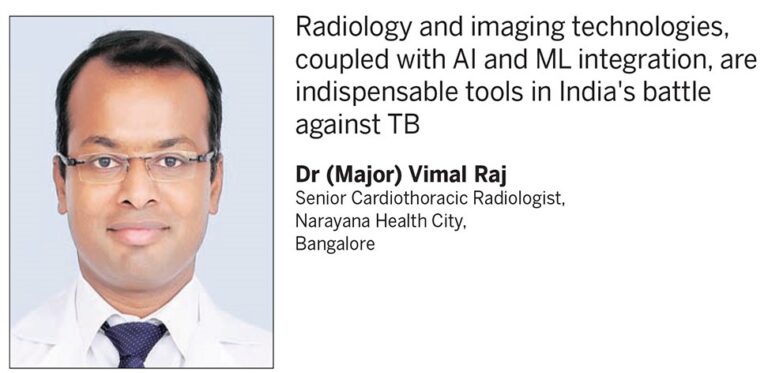 Dr Neetu Jain, Senior Consultant Pulmonology Critical Care and Sleep Medicine, PSRI Hospital also shares that, "AI algorithms can rapidly and accurately analyse vast datasets of radiological images. They excel at identifying subtle abnormalities that might be overlooked by human radiologists, ultimately leading to earlier and more precise TB diagnoses."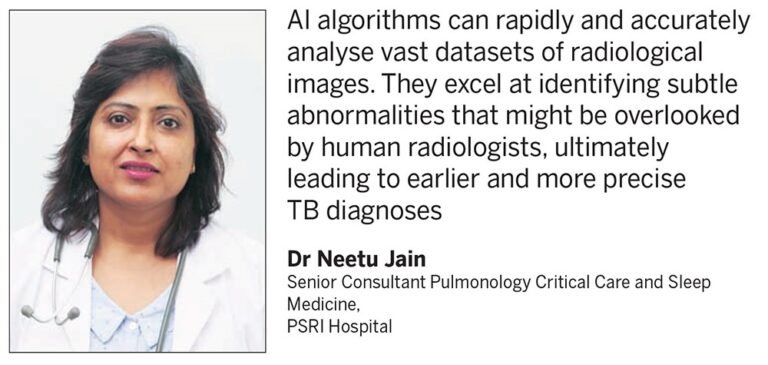 Promising and upcoming technologies
In addition to AI and ML, India is experiencing a surge of promising and emerging technologies for TB detection via radiology and imaging. Portable imaging devices are gaining prominence, particularly in remote and resource-limited regions. These devices empower healthcare professionals to capture images and swiftly send them to experts for rapid analysis, thus closing the accessibility gap in radiological services. Furthermore, there are exciting developments in molecular imaging, poised to provide novel insights into TB detection at the molecular level. These advancements hold the potential to significantly improve the accuracy and speed of diagnosis.
Experts explain about various promising technologies for TB detection via radiology and imaging.
Explaining about Radiomics, Dr Tanu Singhal, Consultant, Paediatrics and Infectious Disease, Kokilaben Dhirubhai Ambani Hospital Mumbai said, "Radiomics is a technique which refers to the automatic high-throughput extraction of a large number of quantitative features from images. Radiomics is now being evaluated in analysing CT images to differentiate TB from non-TB lesions."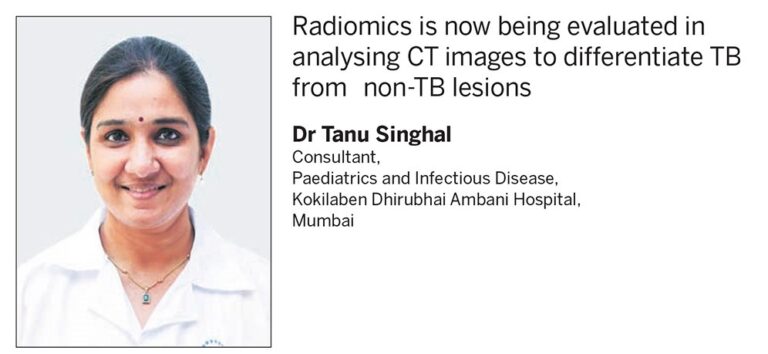 Dr Divya Kant, Consultant –Radiologist, Asian Hospital Faridabad on molecular imaging mentions, "Techniques like Positron Emission Tomography (PET) combined with CT (PET/CT) can visualise metabolic changes associated with TB, offering improved specificity in diagnosis."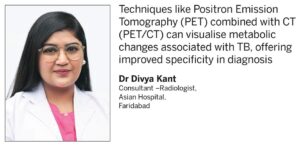 Dr Sunita Dube, Senior Radiologist and Founder, Medscape India emphasises, "The landscape of radiology and imaging for TB detection is dynamic. Emerging technologies such as 3D imaging, which provides a more comprehensive view of affected areas, and portable X-ray machines for remote and underserved regions, are promising advancements. Additionally, teleradiology is facilitating remote diagnostics, improving access to expertise."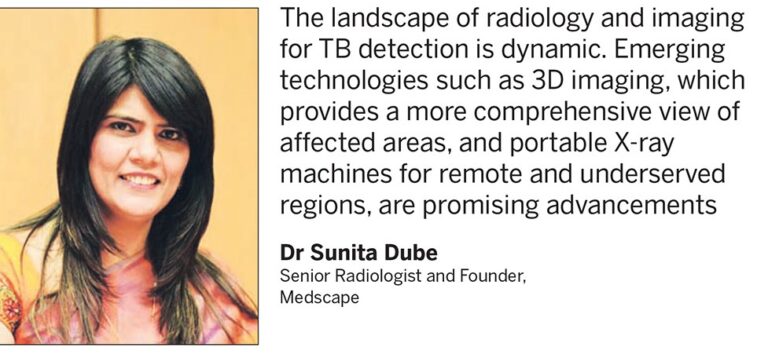 TB is a curable and preventable illness, but the misuse of anti-TB drugs has empowered the disease-causing bacteria to gain resistance—an unfortunate consequence of survival. Furthermore, the drug-resistant strain of TB poses an even graver threat with its complexity and heightened fatality. Therefore, the urgency to detect drug-resistant TB early cannot be overstated. It gives doctors the opportunity to administer precise and effective treatments, thereby halting its transmission.
On this, Chander Shekhar Sibal, HOD & Vice President, Healthcare Business at FUJIFILM India shares, "Conventional detection methods take an astonishing 3 to 8 weeks to yield results. Hence, there is an urgent need to swiftly contain the growth and spread of these drug-resistant bacterial strains. This is where the advancements in modern radiology and imaging technology are coming to our aid. Computer-assisted detection software programs are becoming a valuable solution for healthcare professionals to tackle the challenges of interpreting chest X-rays, ultimately streamlining the screening process and addressing the shortage of radiologists. Moreover, digital applications are also leveraging AI to offer a high-quality, efficient, and standardised method for respiratory issue screening. The emergence of ultra-portable digital X-ray systems, characterised by their small size, wireless capabilities, and ease of mobility, represent a valuable resource for delivering healthcare to remote and challenging-to-reach communities."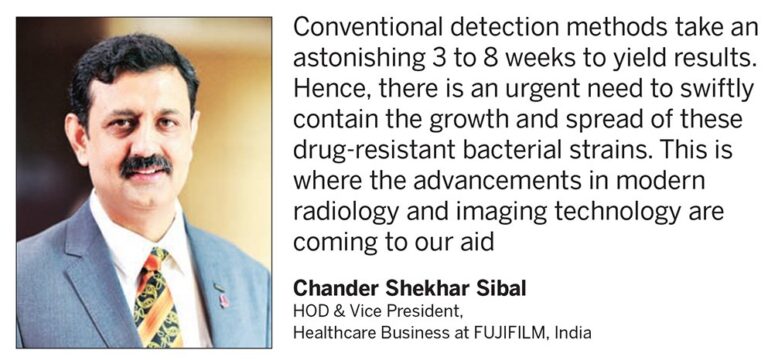 Talking about X-ray digitisation, Dr Arjun Kalyanpur, Founder CEO and Chief Radiologist, Telerad Group shares, "X-ray digitisation facilitates Teleradiology where the images can be transported over a broadband network to another location for the purpose of analysis by a radiologist. Currently there is a major shortage of radiologists globally including in India where we have only about 20,000 radiologists for our population of 1.4 billion, and most of these radiologists are concentrated in metros. Given that screening programs may often be conducted in a rural setting, the use of teleradiology allows for transmission of the images to a centralised teleradiology reporting facility, such as Teleradiology Solutions reporting center. This allows the rural population to have access to high level subspecialist radiologic diagnosis."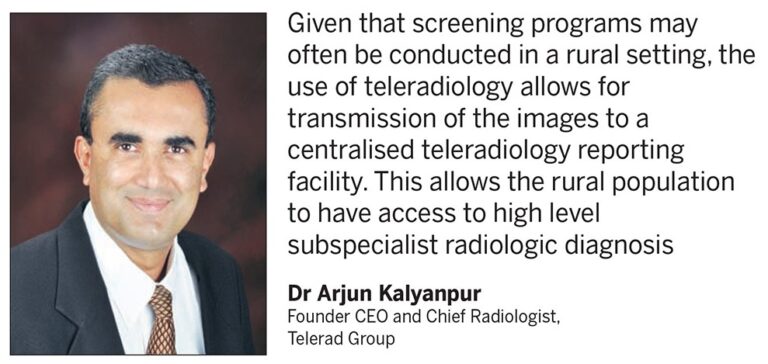 Aiding the "End TB by 2025" campaign
Radiology and imaging have played a significant role in diagnosing TB in India, and innovative technologies like AI and ML are advancing it further. The integration of these technologies has improved the accuracy of TB detection, enabling healthcare professionals to detect TB earlier and treat it promptly, ultimately helping India achieve the goal of "End TB by 2025."
Sharing her views on this, Dr Meinal Chaudhry, Director-Radiodiagnosis and Interventional Radiology, Aakash Healthcare said, "Upcoming technologies are crucial to achieving the objective of the "End TB by 2025" campaign. Innovations like AI can significantly improve early TB diagnosis, while telemedicine helps with remote monitoring of patients and ensuring they adhere to their treatment plans. Further, drug development and identifying treatment resistance is made possible by next gen sequencing. Furthermore, wearable health technology facilitates real time data gathering for personalised TB care. By streamlining healthcare delivery, enhancing patient outcomes, and supporting monitoring efforts, these developments considerably help the campaign's objective to eradicate TB by 2025."
Moreover, these innovative technologies are effectively lightening the load on healthcare professionals tasked with TB detection in India. Radiology and imaging experts can now review a significantly larger number of chest radiographs and CT scans within a shorter time frame compared to previous methods, enabling them to serve a greater number of patients. This heightened efficiency translates to the early identification and treatment of more TB cases, ultimately reducing the disease's incidence and steering India closer to the eradication of TB.
Dr E. Ravindra Reddy, Senior Pulmonologist, Kamineni Hospitals believes that the convergence of radiology and imaging technologies, assisted by the integration of AI and ML, represents a substantial leap forward in the pursuit of the "End TB by 2025" initiative. The timely and precise detection of TB plays a pivotal role in curtailing transmission rates and ensuring that individuals affected by the disease promptly receive the necessary treatment. By accelerating the diagnostic process and mitigating the risk of misdiagnosis, these technological advancements play a pivotal role in advancing the campaign's goals."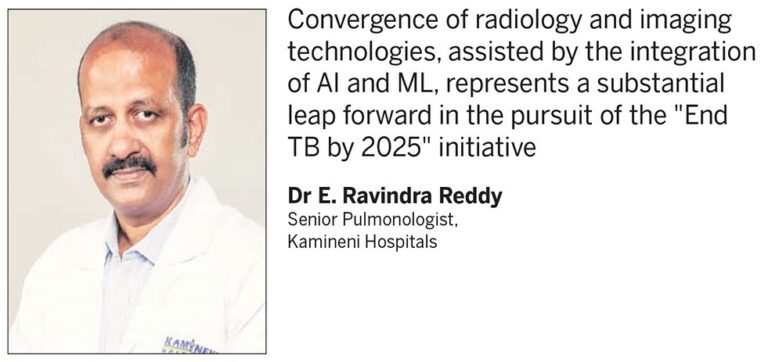 Dealing with data: Management and challenges
The integration of innovative technologies, particularly AI and ML, in the field of radiology and imaging has led to a surge in data that needs to be managed. With the immense amounts of data generated from X-rays, CT scans, and other imaging techniques, there needs to be a way to manage and organise the data effectively to ensure that it is useful in detecting TB.
There are several challenges in managing this data, including its sheer volume, quality, disparate data sources, and data privacy concerns. The volume, velocity, and variety of data involved can be overwhelming, necessitating robust data management solutions. Furthermore, data privacy and security concerns are paramount, given the sensitive nature of patient information.
Dr Anita Agarwal, Director & Chief of Radiology Department, Indian Spinal Injuries Centre said, "The increasing use of radiology and imaging techniques generates vast amounts of data that need to be stored, organised, and analysed efficiently. This requires strong data management systems and infrastructure. Furthermore, ensuring the privacy and security of sensitive patient information is crucial. Overcoming the challenges associated with data management involves implementing data integration platforms and interoperability standards to enable seamless exchange of information between different healthcare systems. Additionally, training healthcare professionals in proper data handling and analysis techniques is vital for maximising the potential of radiology and imaging in TB detection."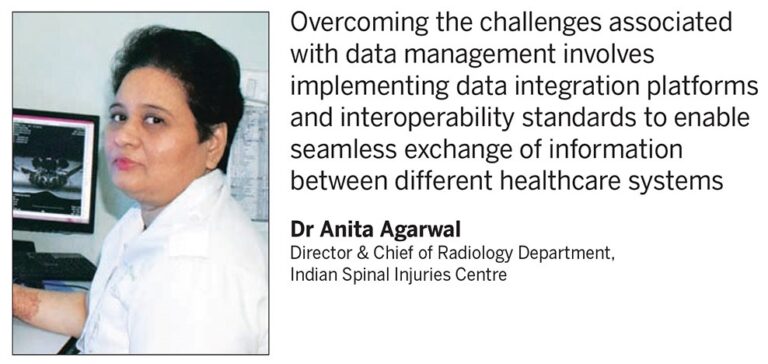 Gandhi opines, "Efficiently managing patient and screening data is absolutely imperative in the battle to eradicate TB. Through the utilisation of cutting-edge digital applications such as RIS (Radiology Information System), patient data and histories are meticulously recorded, eliminating the risk of critical information being lost during follow-up procedures. This centralised data management system empowers authorities at all levels to seamlessly engage with the data, gaining profound insights into the current situation."
Dr Raj believes," Ensuring data privacy, managing large datasets, and maintaining the quality of data are ongoing concerns. Addressing these issues requires collaborative efforts between healthcare institutions, hospitals, technology providers, as well as policymakers."
The way forward
The current state of radiology in TB detection in India is a blend of challenges and opportunities. While challenges like limited access and a shortage of skilled professionals persist, technological advancements, particularly in AI and ML, hold promise for revolutionising TB detection.
Efforts to expand the radiological infrastructure, train healthcare professionals, and ensure quality assurance are crucial steps in improving the accuracy and accessibility of radiological services for TB diagnosis. Collaborative efforts are vital to achieving these goals.