Breast Imaging And Mammography Radiology
At AMI, our team of highly specialized radiologists delivers screening and diagnostic support with state-of-the-art imaging modalities and advanced technology. The radiology subspecialty is devoted to diagnostic imaging including mammography, breast ultrasound, breast MRI for screening and early diagnosis of breast pathologies thereby enhancing medical and surgical management.
The Breast Imaging and Mammogram team at AMI is the most subspecialized group of breast imaging radiologists in India and the GCC region with expertise in breast ultrasound, MRI, and biopsy techniques.
Breast imaging is often considered to be limited to screening for breast cancer. However, this subspecialty includes diagnosis of all breast conditions using mammograms, breast ultrasounds, image-guided aspirations and biopsies, magnetic resonance imaging (MRI), ductography, and molecular imaging.
95% of breast diseases occur in women and are rarely seen in men. While early detection is key to the treatment and cure of breast diseases, mammography radiology plays a vital role in its diagnosis. Our team of highly skilled and experienced radiologists uses advanced, high-resolution imaging equipment to diagnose and treat diseases — helping many women achieve better, long-term health outcomes.
Our breast imaging radiologists work closely with:
Primary care physicians
Obstetricians and gynecologists
Breast surgeons
Medical oncologists
Radiation oncologists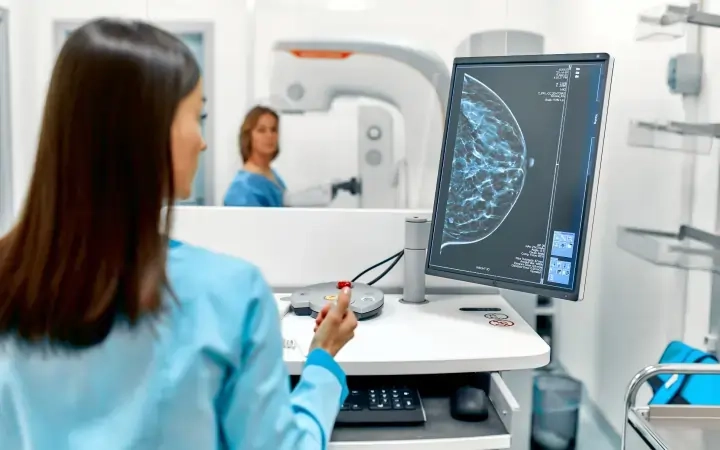 What do we Offer at AMI?


How Breast Imaging & Mammography Imaging Reporting Can Improve Your Throughput Using Our Services
Quality
Reporting standards followed as per guidelines from the American College of Radiology (ACR) & The Royal College of Radiologists (RCR)
On-Time Reports
Reliable, and accurate reports with less turn-around time. 99% of the emergency reports are delivered in less than 1 hour.
24/7 Compliance
Internationally certified radiologists with Sub-specialty expertise are available 24×7 for 365 days a year.