Musculoskeletal Imaging Services
At AMI, our team of highly skilled musculoskeletal radiologists and sports imaging specialists offer screening and diagnostic support with state-of-the-art imaging modalities, cutting-edge technology and the expertise necessary.
The certified subspecialty radiologists at AMI are trained not only to diagnose and treat a wide range of musculoskeletal disorders but also to heal sports injuries. With the latest in Musculoskeletal imaging technology which includes magnetic resonance imaging (MRI), multi-slice CT, and nuclear scintigraphy, we offer the full spectrum of specialized diagnostic services for bones, joints, soft tissue and bone diseases including osteoporosis disorders. Image-guided procedures and spinal injections are used to treat trauma and other orthopedic conditions.
MSK Radiology departments across AMI India & GCC are manned by a trained and dedicated group of image readers. Patients can be scanned on a 3T magnet at AMI outpatient facilities. Selected image-guided aspirations and injections, including steroid injections and arthrography prior to MRI or CT, can be administered. We follow metal artifact reduction protocol on both CT and MRI scans.
We work closely with:
Orthopedic surgeons
Physiatrists (physical medicine and rehabilitation specialists)
Chiropractors
Rheumatologists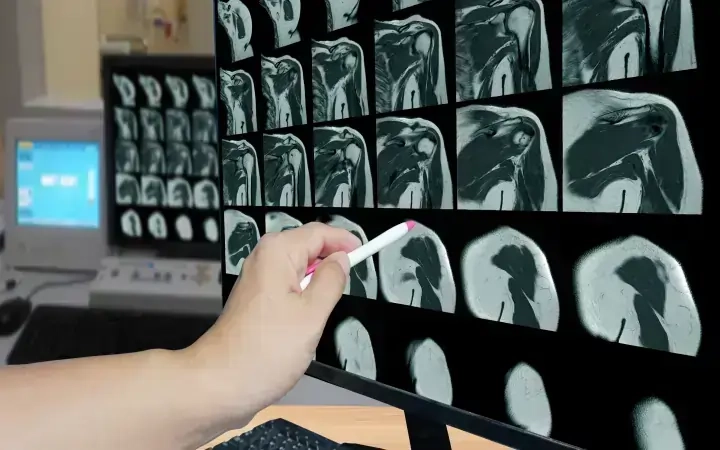 What do we Offer at AMI?


How Musculoskeletal Radiology Imaging Reporting Can Improve Your Throughput Using Our Services
Quality
Reporting standards followed as per guidelines from the American College of Radiology (ACR) & The Royal College of Radiologists (RCR)
On-Time Reports
Reliable, and accurate reports with less turn-around time. 99% of the emergency reports are delivered in less than 1 hour.
24/7 Compliance
Internationally certified radiologists with Sub-specialty expertise are available 24×7 for 365 days a year.