Neuro Imaging Services
AMI's expert neuroimaging team with global experience thrive to improve the patient outcome by swift multimodal diagnostic approach and deep technological expertise. With multiple patents in hand, our credentialed team of radiologists continuously strive to improve the imaging operations and standards of care.
Neuro imaging serves as a decision-making tool in stroke, neurooncology, trauma, and multiple psychiatric conditions. Massive innovation has made it possible to bring advancements in neuroimaging. We now have a plethora of advanced neuroimaging technologies including MRI parallel imaging, fMRI, multi-echo sequences, arterial spin labeling, 3D CSI spectroscopy, myelography, neurography, CT angiography, CT DSA, Doppler ultrasound, which pin downs the pathology with the highest precision. Recent breakthrough research in neuroimaging has shown remarkable changes in the way we treat Dementia.
AMI has an expert team of neuroradiologists with extensive international training and clinical expertise. Multidisciplinary in approach, we provide protocol-based services/ treatment to patients with the help of technicians and other support staff.
AMI, one of the best Neuroimaging service providers, leverages the most advanced neuroimaging modalities for detailed evaluation of both structural anomalies and functional changes.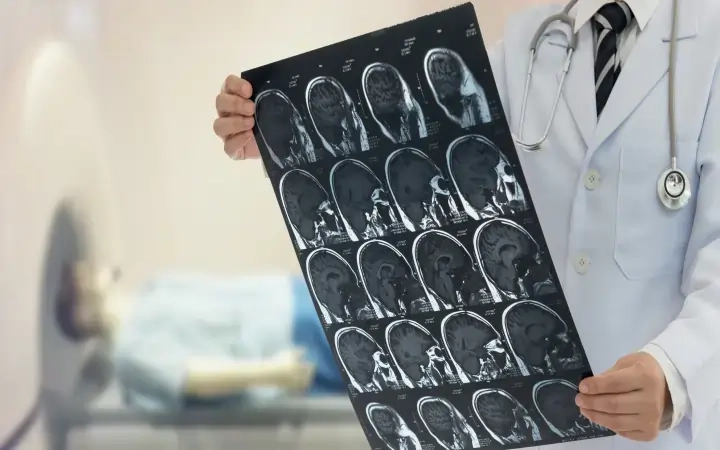 What do we Offer at AMI?


How Neuro Imaging Imaging Reporting Can Improve Your Throughput Using Our Services
Quality
Reporting standards followed as per guidelines from the American College of Radiology (ACR) & The Royal College of Radiologists (RCR)
On-Time Reports
Reliable, and accurate reports with less turn-around time. 99% of the emergency reports are delivered in less than 1 hour.
24/7 Compliance
Internationally certified radiologists with Sub-specialty expertise are available 24×7 for 365 days a year.