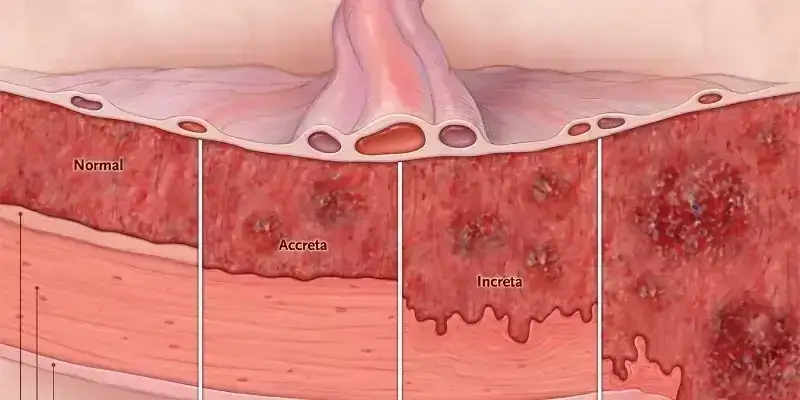 Managing Adherent Placenta – Triple Doctor's Story.
Adherent Placenta are abnormal placenta leading to severe post-partum haemorrhage. Even by controlled caesarean section, bleeding can be profuse during and after the delivery, can result in intrapartum and postpartum haemorrhage, multiple blood transfusion, hypotensive shock and even death.
Women with both a prior caesarean delivery and placenta previa have a high incidence of adherent placenta. There is a need to maintain a high index of suspicion of abnormal placental invasion in such women and preparations for delivery should be made accordingly.
A 5th Gravida patient with 32 weeks pregnancy was presented at Aster RV Hospital with preterm labour pains. The patient had a history of previous 2 caesarean sections and previous 2 dilatation and curettage for termination of pregnancy. Adherent Placenta was diagnosed with MRI and USG. Despite efforts to stop the labour pains, there was progress, hence the decision to do an emergency caesarean section was taken. As a prophylactic measure, to prevent post-partum haemorrhage, the patient was referred for an endovascular procedure to the Department of Interventional Radiology.
Throughout the procedure, 7 X 40mm balloons were placed both in the left proximal internal iliac artery and right internal iliac artery. After the procedure was carried, the balloons and sheaths were stitched in place and the patient was shifted to OT. The uterine incision was taken and immediately after the baby was delivered and umbilical arteries were clamped, both the balloons were inflated with a derided amount of diluted contrast to occlude the internal iliac arteries simultaneously. Post this, the procedure was continued and in total, there was less than 800 ml of blood loss. Thus, this novel endovascular technique by collaboration between Obstetrics and Interventional Radiology in Multi-Specialty Hospital Setup helped in controlling bleeding and preventing the need for blood transfusion during and after the delivery in cases of abnormal placenta.
Dr Ravindra kamble, ( Interventional radiologist), Dr Sunil Eshwar (obstetrician & gynaecologist), Dr Smrithi D Nayak (obstetrician & gynaecologist)