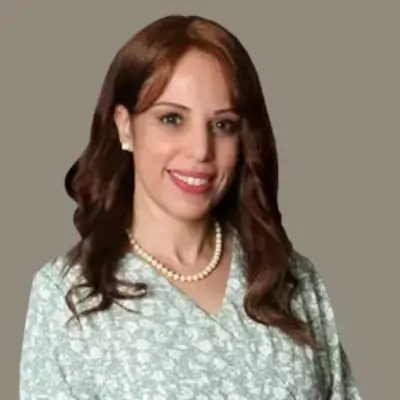 Dr. Nashwa Elshazly
Specialist - Radiologist
SPECIALITY
Specialist Radiologist
Overview
Dr. Nashwa Mohamed Abdelaziz Elshazly is a widely known radiologist in the Department of Radiology at the Medcare Medical Centre in Mirdif City & Discovery Gardens. She obtained her Bachelor of Medicine & Surgery from Cairo University & then completed her Master's Degree in Radio Diagnosis from Ain Shams University, both in Egypt. Currently, she is working as a diagnostic mammography Specialist.
She initially worked as a General Practitioner with the Ministry of Health in Egypt, & then as a resident in the radiology department of Ain Shams University. She moved to Saudi Arabia where she served as a specialist radiologist at the prestigious Al Mouwasat Hospital. Her impressive credentials include memberships in the European Society of Radiology, the Egyptian Society of Radiology, & the Egyptian Doctors Syndicate.
With her extensive experience as a radiologist, Dr. Nashwa has performed a variety of ultrasound modalities like general X-rays, imaging, Doppler ultrasound, MRI, sonography, CT scans & barium scans. She is proficient in diagnosing female gynaecological conditions using breast imaging (mammography & ultrasound, MRI), foetal maternal imaging, obstetric imaging for high-risk pregnancy, foetal anomaly scan, and pelvic & transvaginal imaging. She is an expert in conducting abdominal scans, paediatric sonography, transcranial & all body parts, musculoskeletal, neck, scrotal & small organs ultrasound, CT scan of all body parts, & Doppler ultrasound on peripheral body vessels.
During her leisure time, Dr. Nashwa likes to de-stress by painting, listening to music & reading. She speaks both Arabic & English.
Qualification
Bachelor of Medicine and Surgery, Master's Degree in Radio Diagnosis