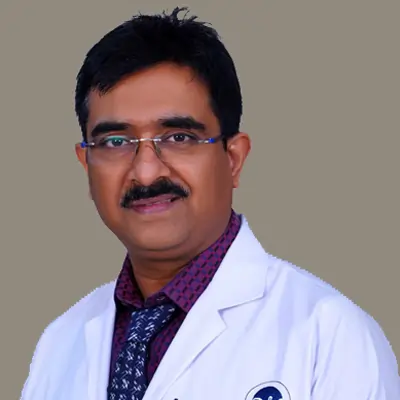 Dr. Pravin Sudhakar Patil
Ortho Radiologist
SPECIALITY
MRI Arthrography, MRCP, HRCT Temporal Bone
Overview
Dr. Pravin Patil is a senior consultant Radiologist at Aster Prime Hospital. With more than 13 years of hands-on experience, he is an eminent imaging health care specialist. He is well worth with all radiology modalities like Radiography, computed tomography, magnetic resonance imaging, Ultrasound, Dopplers, interventional radiology procedures, special studies.
He completed his MBBS from Government Medical College, Aurangabad, Maharashtra in the year 2001.
In the year 2005, he completed Diploma in Medical Radio Diagnosis (DMRD) from Pravara Institute of Medical Sciences, Loni, Maharashtra.
Dr. Pravin completed his DNB in Radiology from Medical Trust Hospital, Kochi, Kerala in the year 2018. Dr. Pravin is associated with Indian Radiology & Imaging Association (IRIA) and Indian Medical Association.
Qualification
M.B.B.S. DMRD. DNB. (FRCR)
Work Experience
Dr. Pravin Patil started his career in the year 2006 as a Consultant Radiologist at SVS Medical College, Mahabubnagar. In the year 2008, he worked as a Consultant Radiologist at Royal Hospital, Kunnamkulam, and Secunderabad Diagnostic & Research Centre.
In the year 2009, Dr. Pravin started working as a Consultant Radiologist at Aster Prime Hospital.
Approximate number of performed procedures.
X RAY - more than 90000
CT – more than 35000
MRI – more than 8000
USG – more than 1 lakh.
CT guided biopsies- more than 300
US guided procedures – more than 1500
Us guided musculoskeletal procedures – more than 500
A career in medicine is one of the oldest and most respected profession. It has the potential to impact human life in a way that is truly unique.This along with my parents wish inspired me to become a doctor.
While doing MBBS I was always fascinated by how radiologists can diagnose diseases by imaging that too only black and white imaging. Always wondered what they see in films. Always attracted by radiologists when I was doing MBBS. Along with this radiology is top medicine branch in present era. This leads me to become a radiologist.
I am sincere, committed and faithful person. Compassion, competence, courage and helping others are my values.
14 years of experience in the field of radiology.
CT/MRI ANGIOGRAPHIES
HRCT TEMPORAL BONE
SMALL PART ULTRASOUNDS
DOPPER EXTREMITIES
MRI JOINTS
MRCP
MR FISTULOGRAPHY
CT CISTERNOGRAPHIES
MR STROKE / EPILEPSY/ CRANIAL NERVES
SPECTRUM OF US GUIDED PROCEDURES INCLUDING BIOPSIES, DIFFICULT ASPIRATIONS.
Awards & Recognitions
RECEIVED TOKEN OF APPRECIATION FOR DEDICATED AND COMMITTED SERVICE WITH ASTER DM HEALTHCARE FROM 2009 TILL 2017 IN JOURNEY FOR A CARING MISSION WITH GLOBAL VISION FROM DR. AZAD MOOPEN FOUNDER CHAIRMAN.
RECENTLY RECEIVED APPRECIATION FROM DR. AZAD MOOPEN AS A STAR DOCTOR IN ASTER PRIME HOSPITAL. 2019.
Recognized as top doctor of South 2022 in the Radiology –Diagnostic
Vaidya Vibhushan Awardee 2022