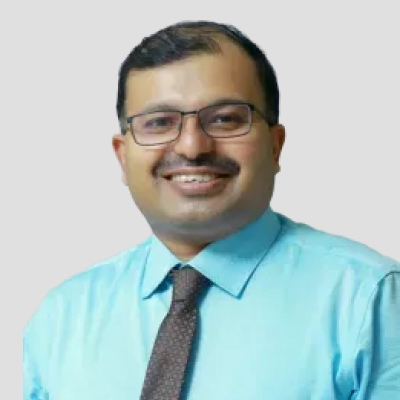 Dr. Brijesh Ray R. S
Clinical Imaging & Interventional Radiology
SPECIALITY
Interventional Radiologist, Reporting cardiac MRI and C
Overview
Dr. Brijesh Ray R S has an experience of more than 10 years in the field of Radiology, amply experienced in reporting all imaging modalities and in performing all kinds of vascular and non-vascular interventions. The experience of working in some of the best medical institutes in India added vastly to his professional progress. He has got the maximum number of individual case report series of Osteoid Osteoma Ablation in Kerala.
Qualification
MBBS, DNB, PDCC (interventional radiology)
Work Experience
Cerebral angiogram, Mechanical Thrombectomy for Stroke, Carotid Stenting

Neuro-interventional procedures like aneurysm coiling, AVM embolization

Below-knee and above-knee Peripheral Angioplasties and stenting

TARE, TACE

GI bleeder embolization

TIPSS, TJLB

Ablation for Liver tumours, Biliary Interventions

BRTO, CARTO

Portal vein embolization

Shunt embolization and endovascular management of Budd Chiari, PCN

Renal artery embolization, Renal AVM embolization, Renal artery stenting

Venoplasty , AV fistuloplasty

Uterine Artery Embolization for fibroids and Prostatic artery embolization for BPH

Bronchial Artery Embolization for haemoptysis

Pulmonary AVM embolization.

Varicose Vein Microwave and Laser Ablations.

Aortic Interventions like EVAR, TEVAR

PICC line insertions.Pre-operative Tumour embolization

Ablation of Osteoid Osteoma. Image-guided Pain interventions

Thoracic duct embolization for lymphatic leaks

Image-guided biopsies and drainages.
Past Positions
Consultant Interventional Radiologist at KIMS Hospital , Trivandrum
Assistant Professor ( Add HOD ) at SCTIMST, Trivandrum
Registrar at KIMS ,TRIVANDRUM
Consultant Radiologist at Daya Hospital, Thrissur
Senior Resident at Govt.Medical College, Thrissur
Awards & Recognitions
Best Paper Presentation at State IRIA 2013
Prize in Poster Presentation at National IRIA, Hyderabad
Third prize in Poster Presentation at State IRIA Conference
Second Prize in Poster Presentation at State IRIA Conference
Fellow/Membership
ESR (European Society of Radiology)
RSNA(Radiological Society of North America),
ISVIR (Indian Society of Vascular Interventional Radiology),
SIR ( Society of Interventional Radiology, USA),
CIRSE (Cardiovascular and Interventional Radiology Society of Europe),
IRIA (Indian Radiology & Imaging Association)
ISGAR(Indian Society of GI Radiology).
Publications
Ultrasound-guided peripheral nerve interventions for common pain disorders in IJRI, Mar, 2018
Bronchial artery embolization in the management of fungal balls – a singular observation in IJRI, May, 2017
Role of agitated saline technique in TACE for identification of feeding vessel in International Journal of Diagnostic and Interventional Radiology, 2015