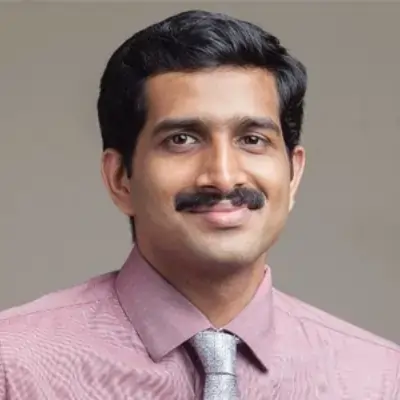 Dr. Arjun S
Consultant - Clinical Imaging & Interventional Radiology
SPECIALITY
Interventional Cardio Radiologist
Overview
Dr. Arjun S is experienced in performing peripheral and neurovascular interventions, also specializing in cardiovascular and interventional radiology. Being one of the best interventional radiologists in India, he also has an ample experience in non-vascular image-guided diagnostic and therapeutic procedures. Moreover, his expertise lies in reporting cardiac MRI and CT. He also has a strong academic interest and presented regularly in intra and interdepartmental radiology meets seminars, and journal clubs.
QUALIFICATIONS
PDCC - SCTIMST, Trivandrum

MD(Radiology) - Government Medical College, Thrissur

MBBS - T D Government Medical College, Alappuzha
Qualification
PDCC in Cardiovascular Imaging & Peripheral Interventional Radiology, MD in Radio diagnosis, MBBS
Work Experience
Dr. Arjun's primary area of interest is Gastrointestinal, Oncological and Neuro Interventions. He also has good experience in complex peripheral angioplasties, Aortic interventions including TEVARs and EVARs. His expertise lies in Liver and Kidney transplant-related both diagnostic and interventional works.
Past Positions
Senior resident in SCTIMST, Thiruvananthapuram.
Junior Consultant in Govt District Hospital, Kollam
Awards & Recognitions
First prize in Poster presentation - National Cardiac Imaging Conference, Mysore
First prize in Quiz - Radiology conference at SRMC
Fellow/Membership
ISVIR (Indian Society of Vascular and Interventional Radiology)
IRIA (Indian Radiology & Imaging Association ISGAR (Indian Society of GI Radiology) Indian Association of Cardiac Imaging
Publications
Published a paper in JCIR (Journal of Clinical Interventional Radiology - Endovascular Stent Grafting in Artery Pseudoaneurysms ( 2016 )
Published a paper in the Journal of surgical case reports - Non-recurrent laryngeal nerve and associated vascular anomalies – a case report ( 2017 )